Some more hand picked twits to tickle your twitter taste buds.
Bio: Following our team around the modern world.
Bio: This is the official Twitter feed of Webist Media – WebUrbanist + WebEcoist. Thanks for reading!
http://twitter.com/onlygadgetnews
Bio: Get a wide range of news on state of the art gadgets. Reviews and release announcements.
http://twitter.com/imjustcreative
http://imjustcreative.com/imjustcreative-twitter-landing-zone/2008/12/11/
Bio: Freelance Logo and Brand Identity designer. I prefer the minimal and typographic. 22+ years experience. LoveHelvetica. LoveDogs. Freelance designer for hire.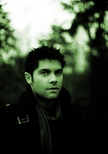 http://twitter.com/rob_sheridan
Bio: Artist/designer/photographer/geek. Creative Director for Nine Inch Nails.