Wall AG have developed a pre-fab home, the 'Universal World House' to be made from recycled paper as a response to those in devloping countries, the homeless or perhaps those displaced by disaster.
The Design uses a product known as Swisscell — Cellulose is extracted from recycled newspaper and cardboard, the resin from the recyclables is then formed into honeycomb like walls that provides an amazing strength to weight ratio as well as excellent insulation.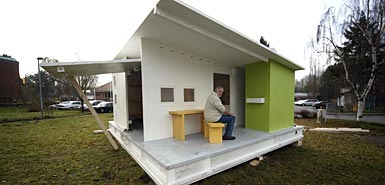 "Gerd Niemoeller says that the 36sq m paper house weighs barely 800kg (1,763lb)- lighter than a VW Golf. 'Without the foundation block, the whole house actually weighs in at about 400kg,' says the design engineer. It will not, however, simply blow away. The basic material is resin-soaked cellulose recovered from recycled cardboard and newspapers.'"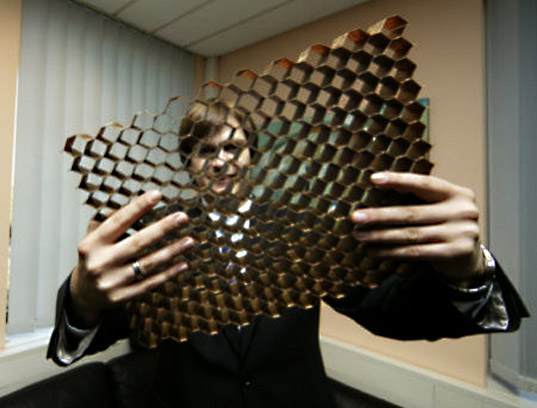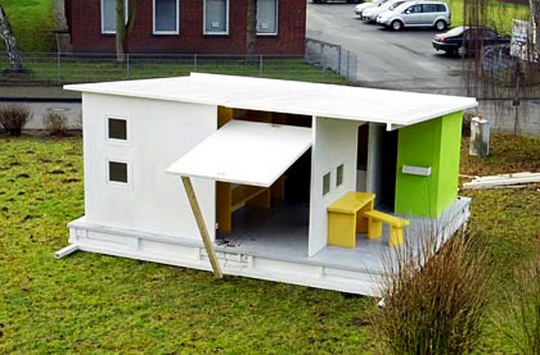 I found this gem via Archicentral.com view the original article here.
and also via Timesonline (UK)
Mr Niemoeller who patented the invention explains.. "The prime purpose is to create intelligent housing settlements almost instantly for the displaced and the urban poor."
"People don't want to flee their countries, they've been driven to leave their homes out of the need to survive," said the 58-year-old engineer. "The number of migrants, refugees living in improvised housing, is going to grow with climate change, and we offer an alternative." An alternative, that is, to the corrugated-iron sheds and lean-tos so often seen in the slums of the developing world.
The house has eight built-in single and double beds and a veranda with a sealed-off area housing a shower and a lavatory. It has been designed together with the German development aid agency GTZ, and with the architect Dirk Donath, from the Bauhaus University in Weimar.
Apart from the sleeping area, there are shelves, a table and benches. "It has been designed so that a family can slaughter an animal on the veranda, wash it in the shower and hang it, along with fish, on an integrated washing line." The whole wall of the kitchen can be tipped open to let air in and to blur the distinction between inside and outside.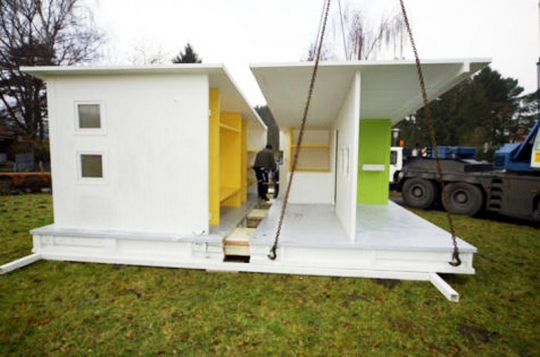 It may be a tad exaggerated (or perhaps ignorant?) to name a design the 'Universal world house' I wonder if it could stand up to the likes of a harsh Australian summer or a freezing Greenland? One would also have to question is stability and fire susceptibility — Regardless, a positive step toward global housing.. no matter how fundamental