I recently stumbled upon the website of Rebecca Ward — Rebecca is an artist from down town Austin, Texas who has exhibited a number of creative, linear works, by utilising the original beams, columns and angles of any given space, usually strung together with a very colourful palette of plain old tape. "I have always been drawn to its unique textural qualities… When using tape, rather than leaving evenly-placed two-dimensional lines upon a wall, I expand upon the material's sculptural potential and bring these installations into a third dimension." Her installations are 'inherently architectural,' and all 'site-specific' No two exhibits are the same. Each site goes through a series of detailed measurements before each installation to properly assess the use of patterns and shapes. "Ideally these patterns are numerically symmetrical or somehow numerically balanced, producing a dialogue between line and space."
I Got in touch with Rebecca to find out more about an exhibit in Houston Texas — a splash of colour down an otherwise ordinary staircase.
The piece is named 'forty-eight' and was commissioned by Box 13 artspace
I soon learnt that the colourful display was not in anyway random, but instead was loosely based on the age old concept of the golden rectangle
Here are Rebecca's thoughts on the installation.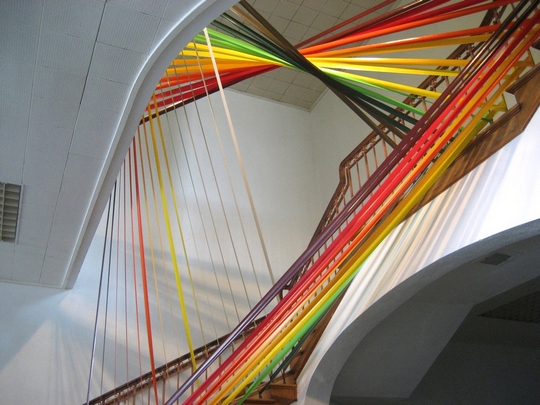 "When I began investigating the Box13 space, I wanted to plan my installation according to the laws of the golden rectangle.The aerial view of the staircase seemed to have a shape that would work with the golden spiral. Ultimately, it was too difficult to make every piece of tape and every linear gesture adhere to the very specific laws of the logarithmic spiral, but I think the end result still has its basis (somehow and somewhere) in phi. I guess I kind've ended up making my own rules about balancing proportions in a rectangular space."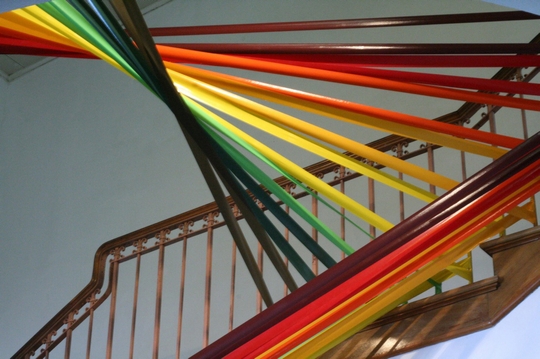 A huge thanks to Rebecca for sharing her thoughts and work with us.
For more information and equally stunning installations visit..