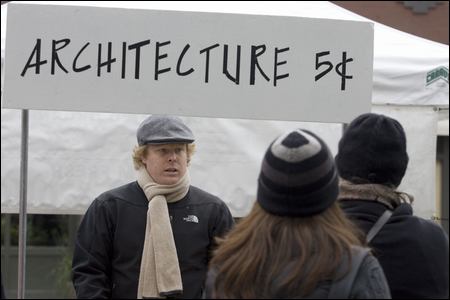 Architecture 5c -
Well god dam, did I pick the wrong decade to graduate from Architecture school..
The above image is of John Morefield's. A 27 year old who has been twice laid off by architecture firms in the past year, a direct result of the spreading world economic crisis.
"This what it's come to, John? Going to parade down Market Street in sandwich boards later?
"I'm serious," Morefield said, laughing when asked about his booth, which has appeared two weeks in a row at the open-air street market in old Ballard. "I'm here to answer questions. And I do charge a nickel. I've made a dollar today so far."
He's banking on more than a game of 20 questions, however.
Twice laid off from architectural firms in the past year when work dried up, the 27-year-old was inspired by a public radio program's "Ask an Iraqi" show and Lucy's psychiatric help stand in the comic "Peanuts." Morefield decided to set up a booth, offer cheap advice on home remodeling — and hope the contacts would turn into design jobs.
So he built the small stand and painted his sign. He packed up his draftsman tools and laptop (for mapping research that extends beyond the top of his head) and set out. He secured space with market organizers, and brought a stool and a warm coat."