"Witness an Australian first in sustainable design and innovation, by visiting the Greenhouse by Joost, a temporary exhibition over the Spring and Summer period of 2008|09. It's built entirely from recycled and recyclable materials."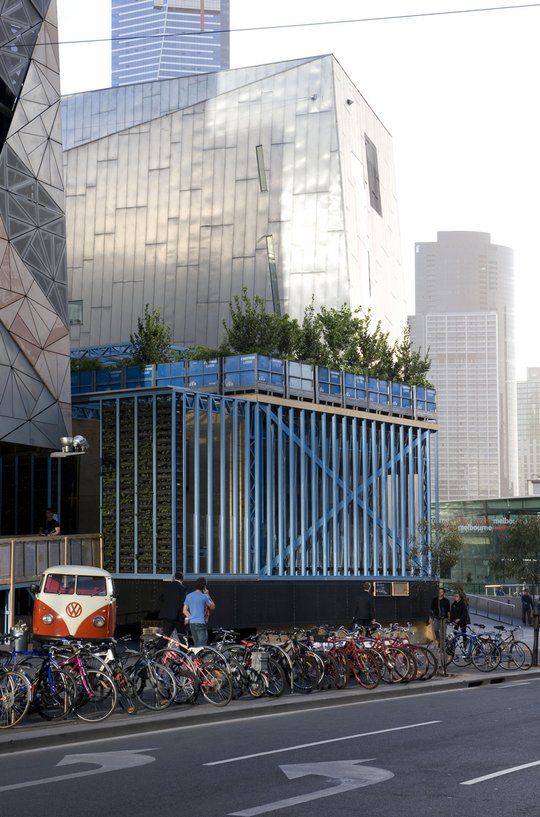 ..Coffee in a jar?
No, not nescafe blend 43
Last weekend myself and good friend/fellow Architecture student sat down for a latte, straight from a recycled jar.
"If you think guerilla gastronomy is a load of old rubbish – then wait 'til you see what's been dumped in Melbourne's Federation Square."
The Greenhouse by Joost Bakker "has taken up residence at Melbourne's federation square, though perhaps "popped up" is more appropriate. Joost was "repulsed by the practices of a planet that keeps making stuff without any thought to the impact of creating more stuff.'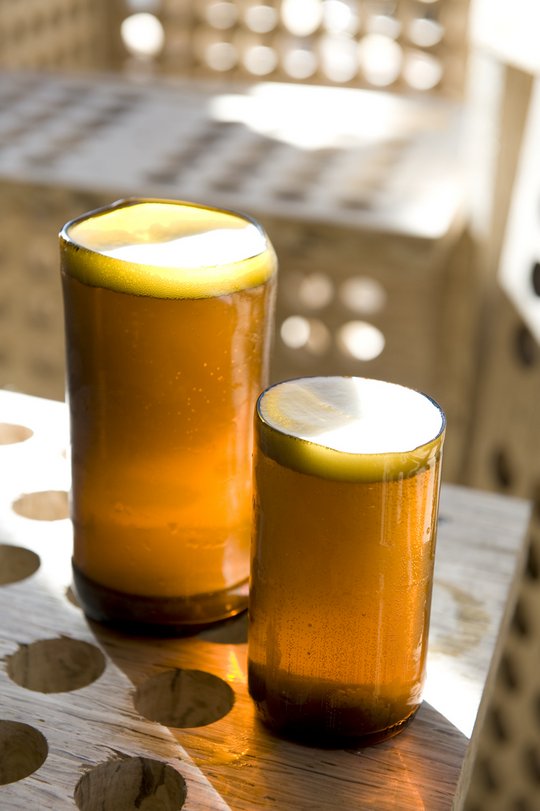 I say "popped up" as The Greenhouse is "Australia's first temporary sustainable exhibition," and sadly, is only temporary, the Greenhouse will pack up shop in January next year and will continue it's way around Australia, next stop is Sydney and then next year's Milan Furniture Fair.
Constructed entirely from recycled and/or recyclable materials the Greenhouse was built to inspire and challenge "the current vernacular on minimizing the impact on the planet, whilst dishing us deugstation fair and operating as a unique gallery, cafe, bar and public space…it would also educate, generate debate, and serve as a model for a cheaper, more spirit-lifting form of public housing in our suburbs."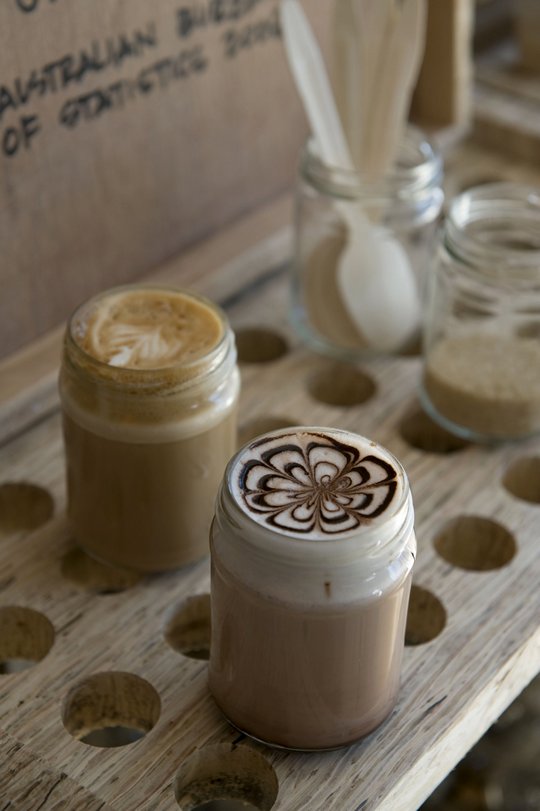 "Greenhouse by Joost serves to instruct a city on how simple and straightforward sustainability practice can be if each individual gives a thought to the life-cycle of the things they consume,"
"Simple and straightforward" is an understatement, the structure itself is made of ply and exposed straw bales. The chairs and tables are from recycled fire hydrants and road signs, shade cloths were woven from tiles discarded the Melbourne Cricket club.
The street facing feature is a great touch to the metaphorically and literal green structure. It is what first dragged me in to check out what the Greenhouse is all about simply made of old recycled plastic pallets, strawberries growing from the pallets supply the wall with a living, growing wall.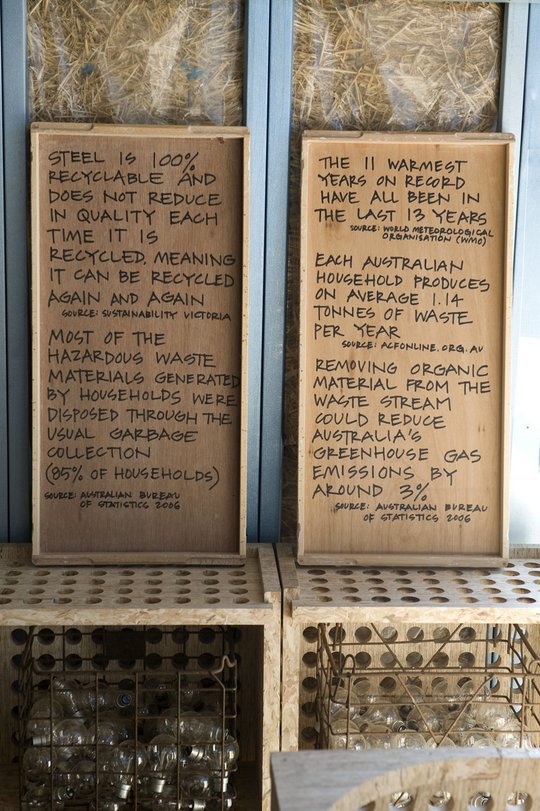 "This remarkable venue will impress event goers and the public alike courtesy of its structural ingenuity and simplicity, and by the fare being dished up – in part dug from the garden of its own roof-top space "
The Greenhouse enlisted the help of voluntary labour from "all manner of like-minded individuals"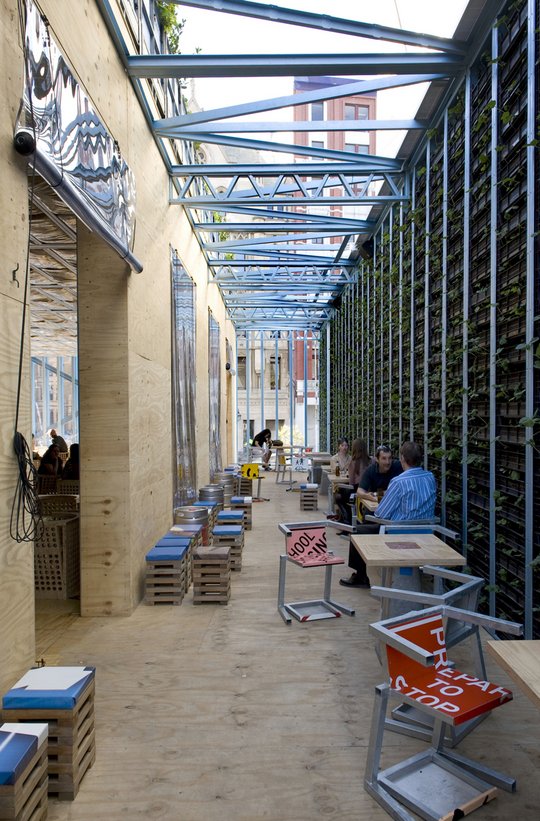 There was concern about getting the green light from the council and officials.. Joost explains..
"Who's going to rubber-stamp a roof-top garden in Fed Square complete with composting vats, a burgeoning veggie patch, rows of bay trees in recycled CHEP bins and buzzing-alive bee-hives?"
But the director of design and urban environment at the City of Melbourne, Professor Rob Adams (the driving force behind the six-star rated CH2 office building), saw in the Greenhouse "a small salve to the heat island effect and an accessible, artful opportunity to make the public think about how technology, processes and materials are impacting on the planet and how they might make a difference."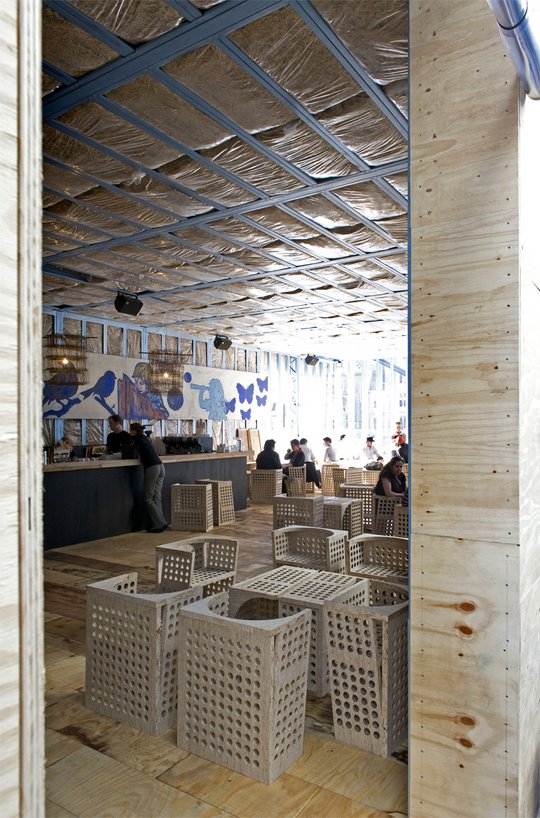 "Once moved on, The Greenhouse by Joost will instantly deconstruct leaving not a single trace of waste." I for one will be sad to see it go
WHEN:
November 1, 2008 – 29 January 2009
OPENING HOURS:
7am – 11pm daily
7am – 4pm – Open to the public as a gallery, education centre and café.
4pm – 11pm – Open to the public as a CBD bar/hot spot! Tickets required for entry (free and can be obtained at the venue). Visit www.greenhousebyjoost.com for ticket outlet details.
*On nights when the venue is booked for corporate functions, public entry is not possible
www.greenhousebyjoost.com
http://www.joost.com.au/