I was fortunate enough to get in contact with Rod Hunt, freelance london based artist who has successfully represented the likes of BBC, Maxim, FHM, Orange and Vodafone..
As well as the cover art for widespread publication 'change the world 9 to 5′
We have been kindly given a taste of Rod's retro styled isometric work along with a bit of background and some great advice for up and coming artists.
Rod stresses the importance of knowing your rights as a working artist, along with the need to just get out there and show your stuff to the world.
So without further ado, the much appreciated and insightful interview with Mr Rod Hunt!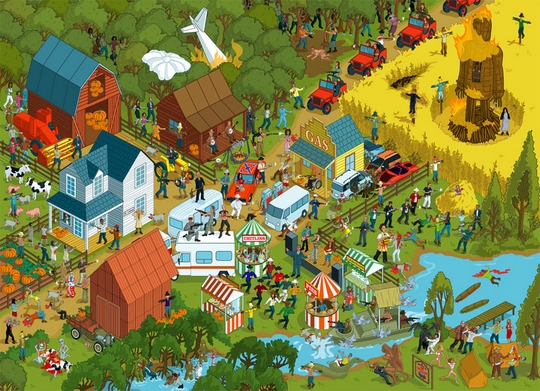 DT: Tell us a little about yourself, where are you from and where are you living now?
RH: I'm a London based Illustrator/designer who has built a reputation for retro tinged Illustrations & detailed character filled landscapes with UK & international clients in publishing, design, advertising & new media, for everything from book covers to advertising campaigns, & even the odd large scale installation too!
Some of my many clients include Barclays, BBC, Computer Arts Magazine, Dorling Kindersley, The Economist, FHM, Maxim, The Observer, Orange & Vodafone
Originally I was from rural town of Bridport, in the country of Dorset, UK. For the last 12 years I've lived in Greenwich, London.
I'm also currently Deputy Chairman of UK The Association of Illustrators. The AOI was established in 1973 to advance and protect illustrator's rights and encourage professional standards
DT: When did you realise you wanted to work as an artist full time?
RH: I was always a prolific drawer as a kid, but didn't consider art as a career until I was 17. Originally I was planning on pursuing Biochemistry & horticulture, & was studying towards that. I thought studying art was just for fun. But the realisation grew on me that I wasn't really enjoying it [bio/horticulture] any more & as I spent all my time drawing, art college beckoned.
After a one year foundation course at Bournemouth & Poole College of Art & Design, I studied Illustration at Anglia Polytechnic University (now Anglia Ruskin University), Cambridge.
I became a full time illustrator in 1996 when I decided to move to London to be closer to potential clients. These were the days before the internet was prevalent, so the only way to show clients work was to post out sample postcards or take your
portfolio to them! Before that I spent the 2 years in Nottingham working on my portfolio & learning about the industry. My work today is very different to how it used to be then, as I used to paint my work in acrylics.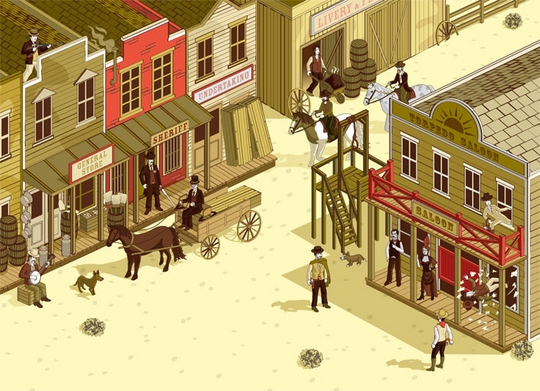 DT: What people places or things inspire you?
RH:I draw much of my inspiration from humour, retro graphics & contemporary culture. Comics were my big love as a kid, especially 2000AD/Judge Dredd, & that fired my imagination & inspired me to draw.
Things that inspire me, in no particular order:
Edward Hopper
comics
2000AD/Judge Dredd
pulp fiction covers
sci-fi
Terry Gilliam
Tim Burton
robot toys
retro 50′s/60′s/70′s advertising & graphics
architecture
animation
film
Mad magazine
DT: What are your most used 'tools of the trade'?
RH:All my work is produced digitally, but before I go near the computer I start doodling ideas and compositions in an A5 sketchbook with a pencil or biro. These are very quick and throwaway. Once I worked out the rough idea and composition & gathered any visual reference I might need, I work on a larger finished pencil drawing, which I then use as a guide for drawing the final artwork with a graphics tablet in Adobe Illustrator.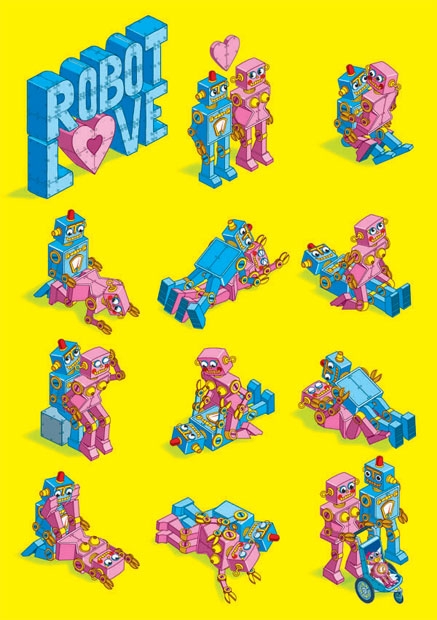 DT: What are you working on at the moment?

RH:I'm currently working on the visitors site map for one of the UK's main theme parks, & also illustrating a whole book for a major BBC TV show.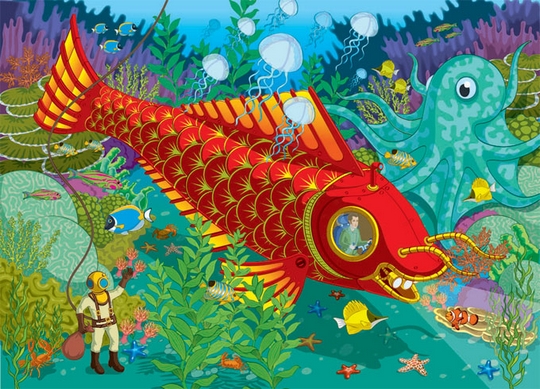 DT: What are your other interests beside design?
RH: I've always had a big interest in music & going to gigs, & have been involved in quite a few bands over the years on the promotion, events & management side of things. Currently that's taking a backseat for my art.
DT: Could you explain the inspiration between 'dreams and nightmares'?
RH:The piece Dreams & Nightmares was an illustrated Shin Tanaka paper sculpture the InkThis exhibition of the same name. I wanted to have the piece being like a mixed up dream, with threats hiding in the shadows. Like a child in their bedroom at night in the dark with only their teddy bear to protect them.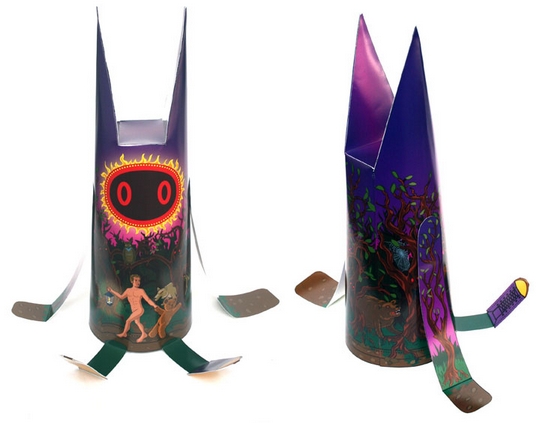 DT: What has been your favourite commission to date?
RH:My favourite commissions have been the cover for the best selling environmental book Change The World 9 to 5 by We Are What We Do & the interactive environmental display for the Lightbox Museum & Gallery in Woking, UK. The Lightbox display was particularly challenging due to it's complexity & scale.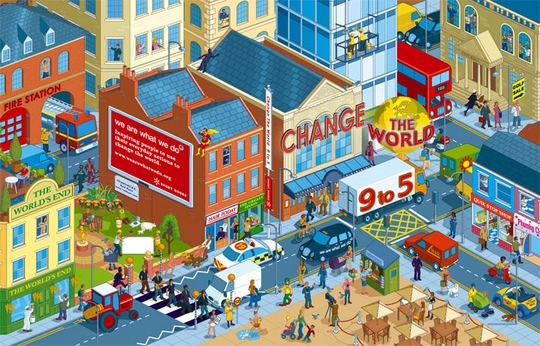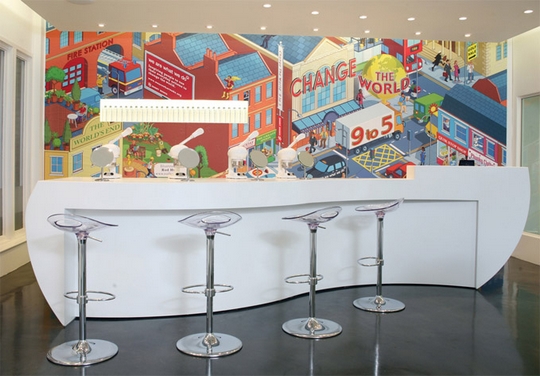 DT: What's the best and worst parts of being a full time, working designer?
RH:The best parts are getting that unexpected enquiry to work on a great commission. Being freelance means that you don't usually know what's coming week to week, so the next project enquiry could be a big surprise! Also I like being in charge of my own destiny & career.
The worst parts are when the phone doesn't ring for a few weeks, & also the increasing amount of unreasonable contracts & copyright grabs from some clients that I have to deal with.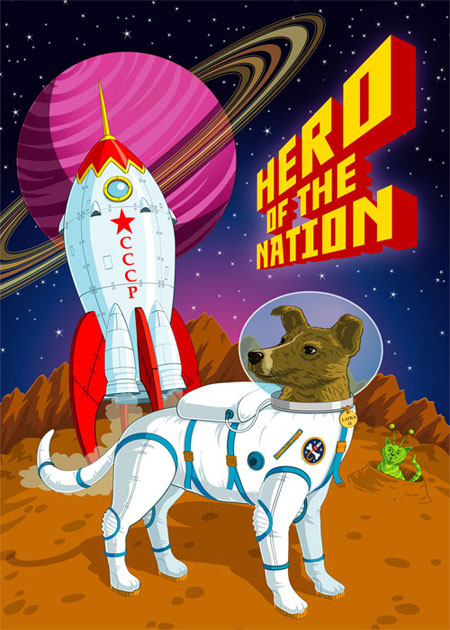 DT: Any advice to up and coming artists/designers?
RH: Get out there and get your work seen by as many people as possible. You should never be afraid to show people your work. You maybe the best designer/illustrator in the world, but if no one sees your work, you won't get commissioned
I'd recommend joining the UK Association of Illustrators (AOI). http://www.theaoi.com (or a similar organization elsewhere). They're constantly campaigning to protect all illustrator's rights, and if you need advice on pricing commissions, contracts, promotion, etc, it really pays to get help from the experts.
Maintain control over your Copyright in your Illustrations. There are very few occasions that clients need to own the Copyright in your work. Your body of work is your livelihood, and you should be entitled to the financial benefits of your talent and hard work.
A huge thanks to Rod for showing us some of his work and also for the words of wisdom!