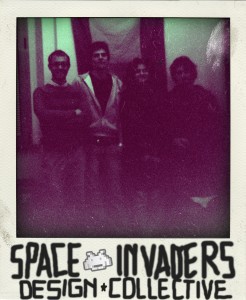 From Milano, Italy comes the talented talent of the Space Invaders Design Group.
Fresh from University, these talented young designers have now completed their degrees but are still meeting to enter design competitions.
The team have kindly given Design Tavern a taste of their work –  A few past University projects.
Tell us a little about yourselves, where are you from and where are you living now?
Four people make up Space Invaders and we are each from a different part of Italy. We met in Milano at university and discovered that working together could have been some potential so we gave it a go and we created the group.
The Space Invaders group is composed by Giovanni Mendini, Stefano Pertegato, Francesco Schiraldi and Eloisa tolu.

How did you come up with the name "space invaders design" the 80s icon i hope!
The name actually has two meanings. It came during a workshop when we made acollaboration with some Australian students. It was called "Octopus, porosity of the city" and we immediately thought of something that could really invade the city space, like a giant octopus.
The second reason is that we needed some graphic mark to identify our style and our approach
We already liked the name so we just picked one small alien from the 80′s arcade videogame with it's amazing pop and pixelated graphics- it really symbolize our light and ironic approach to design.
What does each of you bring to the table? Do you each have particular strengths?

Eloisa is very good in doing research, while Stefano is skilled in drawing. Francesco is the one with the best ideas for concepts and Giovanni is the one who makes everything fit together.
In the end we realized that the most important figure is the one who can make a good coffee which brings peace back in the group in the most "busy" moments.
The most important thing in a creative group is to be all different but to share a common design view.
What people inspires you as a group?
All of us share a common tuition coming from the same university, but whilst we were working together we had the chance to discover artists, designers, architects and people who all influenced us.. Our biggest references are to Naoto Fukasawa because his works keep a unique lightness joined with a deeper meaning. Other's such as Jonathan Ive, Muji, B&O and of course a little dose of "Rock n' Roll" to make things less boring…

What are your other interests beside design?
Well, this question got an immediate and common answer: Rock and Roll. But also photography, graphics, cinema and travels.

What's the best and worst parts of being a full time, working designers?
The best part is when you know you are working on a good concept. And the end results is up to you!
The knowledge of being able to live, thanks to your ideas is something without comparison.
Also the nights spent working as a group: they are a really unifying experience, jokes, laughs, fights and problems become something to remember together.

Any advice to up and coming designers?
"Do something else…"
I'm sure the Space Invaders Group are only mucking around  when they suggest those wishing to become designers should "do some else."
Their Passion for design after all is really amazing, and they are lucky to find such close-knit, like minded group members!
Stefano Pertegato has put up some of his and the group's work at http://www.behance.net/steste
A huge thanks from the design tavern and best of luck withthe AlcantaraLab competition.