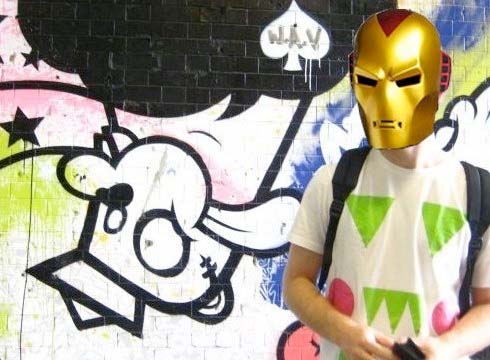 I've been itching to get an interview with a young product designer, especially one with such promise as Jason Cooper -
Born and raised in North London, Jase Cooper was first introduced to design after it became apparent that the NBA just really wasn't going to work out for him – the next best thing? designing basketball shoes.
At university Cooper fell in love with design, not just footwear, basketball took a back seat and design became his passion.  Jason has also included a few words about a selection of his projects, including the award winning 'Cee-Jay' table lamp.
DT: Tell us a little about yourself, where are you from and where are you living now?
JC: I'm from North London, UK and right now in the middle of a gap year in the French Alps interning for Salomon footwear department. In the middle of university studying Design For Industry at Northumbria University. Currently in the progress of looking for an internship for to start early 2009.
DT: At what age did you begin designing/drawing? And when did it become a profession?
JC: I'd say it was basketball that got me into design, I played a lot of basketball before university and I got to an age where I realised the NBA just wasn't going to happen, my head dropped, and staring back up at me, my basketball shoes. I thought how cool it would be to design footwear and from there my opinion and views on design evolved, and here I am today.
DT: What people (creative professional or otherwise), places or things inspire you, and how?
JC: I find human behaviour and the objects we chose to surround ourselves with truly inspiring. I try to be a sponge to my surroundings, allowing anyone or anything to inspire me. I like to look for beauty in mundane places that most people over look. I inspire to create products that engage the user, answer questions and tell a story. Designers that inspire me, there's a lot, but off the top of my head, Deiter Rams, Naoto Fukasawa, Sam Hecht and Kim Colin, Jasper Morrinson, Yves Behar the list goes on.
DT: Are you professionally trained or were you self taught?
JC: In the process of being professionally trained, half way through school.
DT: What are your most used 'tools of the trade' (i.e markers, pens, 3D hardware,)
JC: It all depends what stage of the design process I'm in, it could be anything from a Bic pen to a scalpel, vacuum form machine to photoshop.
DT: What are you working on at the moment?
JC: Currently working with the designers at Salomon on footwear for Spring/Summer 2010.
DT: What are your other interests beside art/design?
JC: Basketball, vinyl toys, shoes, fashion, the Internet.
DT: What's the best and worst parts of being a full time, working artist/designer?
JC: The best part of being a full time designer is being able to do what you love full time, the worst part is realising that being told to be creative is not a 'full time' activity.
DT: Any advice to up and coming artists/designers?
JC: Let it become your life, be passionate, work harder than the next guy. Oh and use the Internet, it has become a second university for me, get involved with forums, visit ted.com, write your own blog, you will learn a lot, all for free.
- Also an avid design blogger! check out jason's blog www.lifeofadesignstudent.blogspot.com
- and check out Jason's main site for his complete folio http://www.jasecooper.com